Alert Level 4
Our clinic is closed for face to face appointments at Alert Level 4.
We are offering appointments via Video link and we are able to take phone calls. All existing clients are being contacted by phone and offered telehealth appointments.
If you have not been contacted please call us on 9259665.
Alert Level 3
At Alert Level 3 we are allowed to be open for Face to Face appointments.
We will not be operating as "Business as usual", there will be additional screening and risk assessments before a face to face appointment can be made.
We will have additional procedures in place in the clinic to help reduce transmission of Covid-19 and you will be informed of these when screened by telephone.
We will be offering Telehealth appointments and for some clients this will be the most suitable option.
We will not be allowing clients to come into the clinic without an appointment so please phone to make enquiries
Alert Level 2
The clinic is open for Face to Face visits and we can offer Telehealth for those who are vulnerable or who would prefer this option.
We will be screening clients by telephone about their possible contact with Covid 19 and possible symptoms. If clients are unwell they are required to stay home and a Telehealth appointment is offered.
At risk clients ie over 70 or with other medical conditions are advised to stay home and Telehealth appointment is offered.
Clients wait in their car until their allotted appointment time to prevent contact in the waiting room. We will text or ring when your physio is ready for you.
Clients must scan in with the QR code or sign the register before entering the clinic.
Clients are required to wear a mask and wash hands/ sanitise prior to entering the clinic.
Cleaning of the clinic is frequent throughout the day. Between each appointment surfaces, treatment bed and equipment is wiped down and hands thoroughly washed.
We request that patients do not bring any family members with them if possible.
May 11, 2020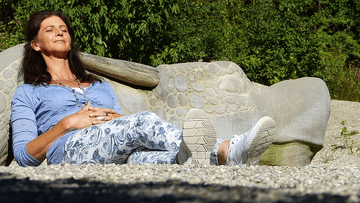 Relaxed and diaphragmatic breathing are useful strategies to reduce and manage stress or stressful situations. Flight, fight or freeze mode is how the body responds to stressful situations. While this is useful when we are under stress such as a dangerous situation, this can be detrimental to our he...
read more